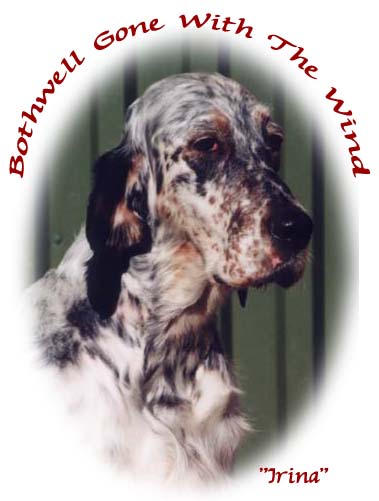 English setter, tricolour, bitch
18.04.1997 - 04.01.2007
hips C/D
breeder Sirpa Tapper, Finland
owner Kickie Boman, Finland
Irina came into my life as a 5 months old puppy. She was hard to resist, so she stayed!
Her first show was a disaster, she was more on two legs then four! But her behavior got better. Her first CC came when she was 16 months old. Followed by some BOB's, CACIB's and more CC's. She wasn't much shown though, due to problems with a leg. It was a pity because with her happy mind she would have been a joy to show in veteran class.
Now we have only memories left. She was a lovely little character who always greeted you with a grin on her face! Laughing or trying to scare you, sometimes hard to know ...